「……I……」, A PERFORMANCE@
RU NEW YORK
Exhibitions | Jun 12 2018 6.30pm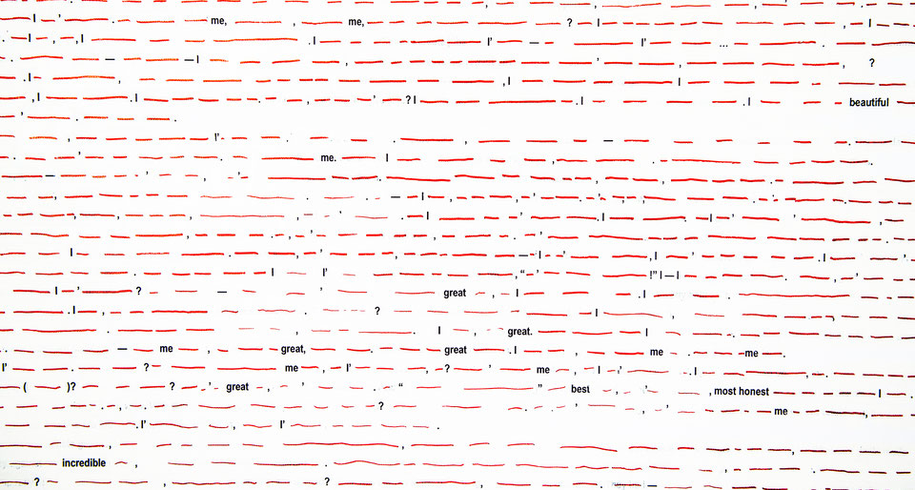 Tuesday, June 12, 2018
6.30pm 
Residency Unlimited (RU)
Brooklyn, NY 11231 
Curated by Ara Qiu   「……I……」is an interactive site specific performance conceived by the artist Lin Jingjing  where a group of performers read out loud and in cadence excerpts from speeches delivered by Donald Trump during his presidency where all the text has been removed except for the pronoun "I" and emphatic words such as "great" and "huge". The rhythm of the  performance is controlled by a metronome activated  by the artist.
「……I……」brings to the surface emerging conflicts and confusions that rise against the backdrop of current political and cultural situations. Together with the artist, performers will interact through simple and poetic body movements and vocal performance with the audience and their surroundings.
「……I……」is the fourth iteration of a socially-engaged art project presented by Lin Jingjing in Beijing (Chinese version, Whitebox Art Center, 2011), Santiago (Spanish version, Chilean National Museum of Fine Arts, 2011) and Cologne (German version, Neues Kunstforum, 2012). The English version of this project is conducted during the artists's residency at RU in New York in June 2018.
*The performance will last about 20min, and will be followed by artist talk and an open discussion and Q&A with Lin Jingjing and Ara Qiu.
***
Solo show"Take Off" @ de Sarthe Gallery Hong Kong
2017 Sep.16-Oct.15,2017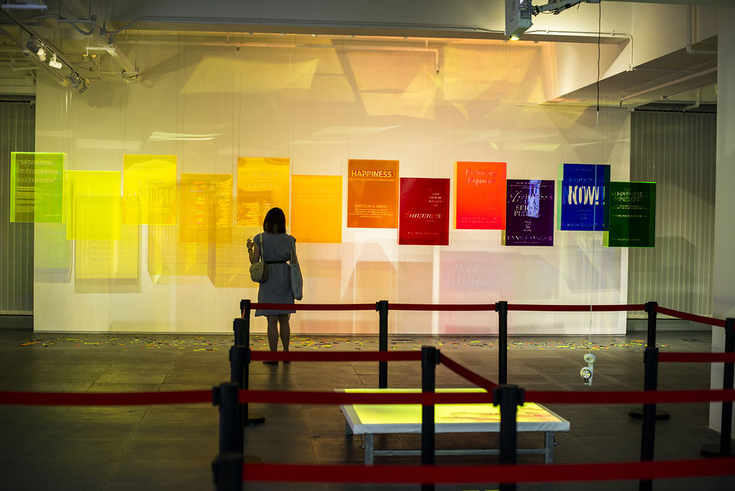 Installation view of "Take Off," at de Sarthe Gallery, Hong Kong, 2017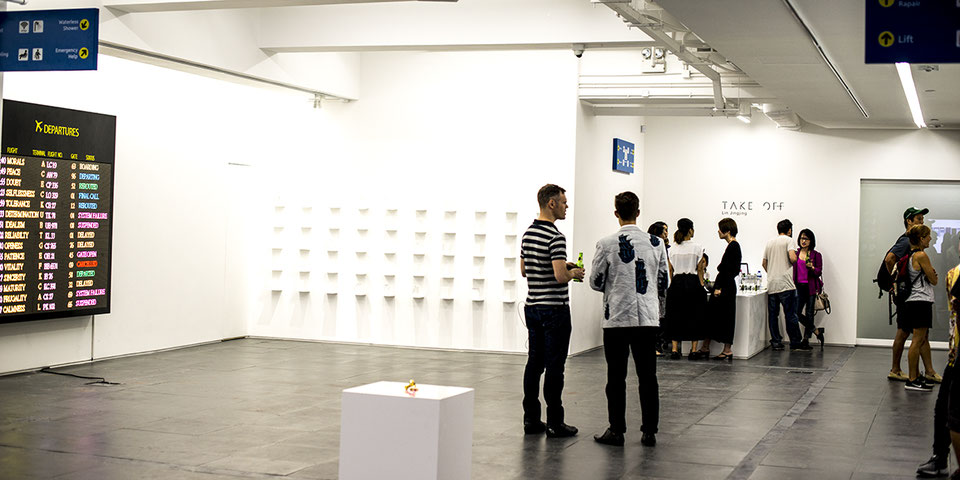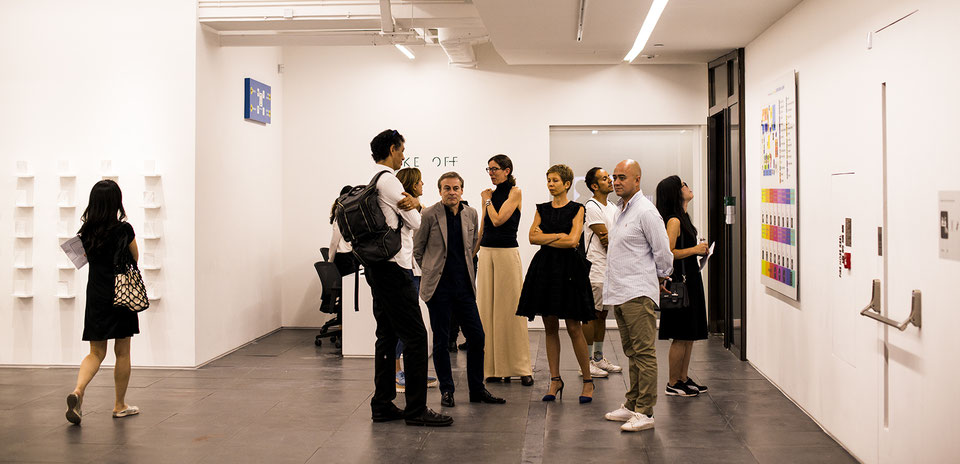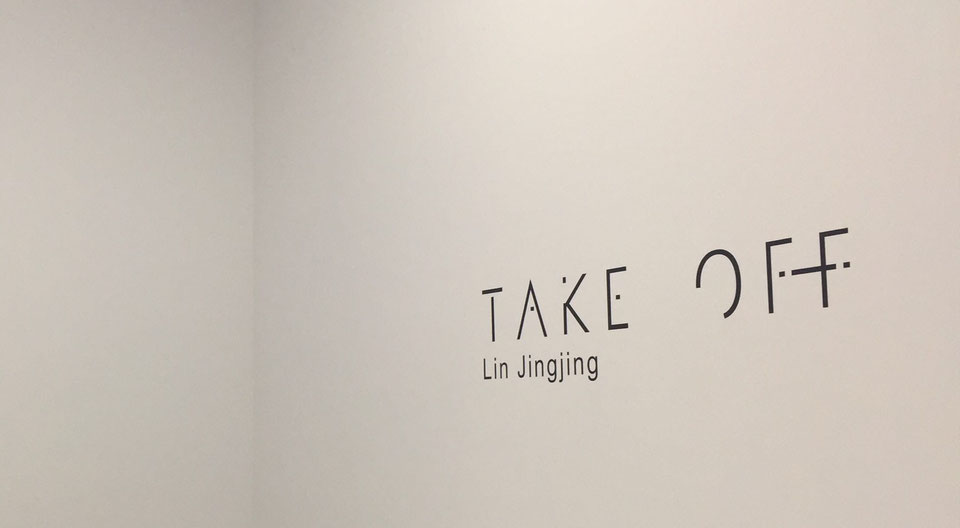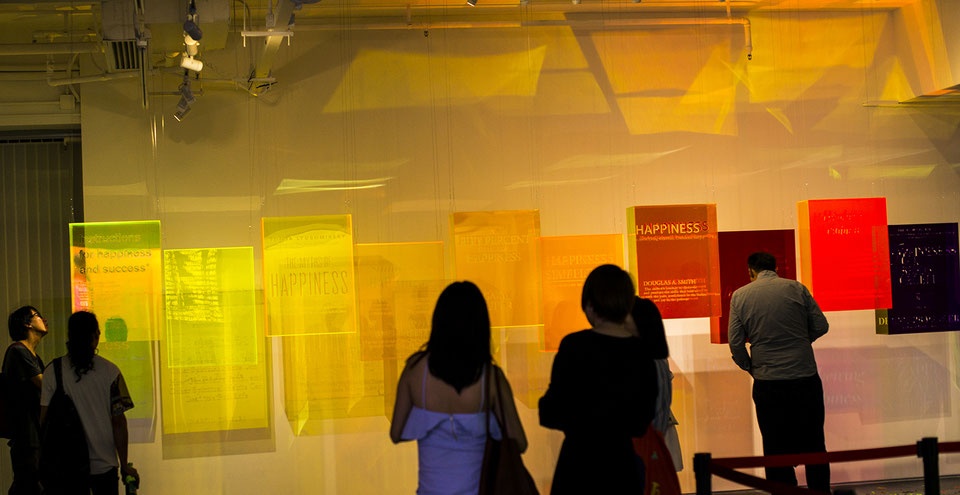 DE SARTHE GALLERY is pleased to announce TAKE OFF, a multimedia solo exhibition of all new work by the Beijing- and New York-based contemporary artist Lin Jingjing. Adopting a methodology of paradox, the show discusses intrinsic uncertainty, repressed anxieties and the loss of individuality in contemporary society. Opening on 16 September the exhibition will run through 14 October.
The title TAKE OFF refers to the structure of the exhibition itself, which transforms the gallery space into an international airport in the imagined nation of the People's Republic of Dreamland (PRD). Elaborating on a theory established by the French anthropologist Marc Augé (1935-), Lin Jingjing explores the current and future ramifications of airports and their facilities as "Non-Places," where identity as an independent individual becomes utterly insignificant. She submerges audiences into her absurdist and imagined future airport where, despite extravagances and leaps in technology, troubling reflections on our current world are laid bare. Through a carefully weaved series of connections, several of the artworks in the show function in relation to one another and collectively produce a powerfully critical narrative.
A quietly terrifying component of the show is the advertisement for a completely fabricated, but not unimaginably powerful mobile phone application. Presented as a light-box identical to ones found in airports across the world, Superzoom publicizes an app that is highly recommended by—and in fact produced by—the PRD government. It promises to assist an individual with quicker passage through customs and to make new friends as well as business connections. However, this is achieved only at the cost of forfeiting the entirety of your private information.  Through Superzoom Lin Jingjing makes it clear that although the information age has allowed access to incredible new experiences, it also has exposed our personal information unreservedly, making it easy for private information to be stolen and violated, rendering the individual defenseless.
In response to Superzoom there is a more discretely presented advertisement for an app called Perfect ID. Produced by a company called My Quality Life LLC, Perfect ID is a crack for the Superzoom app. It prevents monitoring and forges relevant information to compromise attempts at data gathering. It promises to provide technology that disrupts Superzoom at any time. However, as the app interferes with government attempts to gather information, My Quality Life LLC must not advertise their app explicitly. They are forced to publicize in more subtle ways and this includes sponsoring public service advertising. 
Critical Thinking Matters: It's Time to Reinvent, Rethink, Re-strategize, and Grow is one of these public service advertisements. Sponsored by My Quality Life LLC, the advert appears to encourage positive social thinking, yet it is also a veiled criticism of the Superzoom app. Once viewers piece together that the promotional message is linked with Perfect ID, they realize that the system at work is similar to the commercial interests and ideals of our current social reality, where despite clear rules and cultural understandings, there is a long standing series of unspoken rules that govern business and politics.
The largest artwork in the show is comprised of twelve colorful, transparent, and hollow boxes made of acrylic glass that are arranged in a line to form a row of rainbow-like colors. Titled This Is the Beginning of My Desperation, the boxes have texts from twelve self-help and motivational books cut out of their fronts and backs. The text includes the names of the books, authors, and publishing houses, as well as attractive promotional messages. Referencing the astounding quantity of self-help publications produced, Lin Jingling prompts viewers to contemplate the extent to which we yearn for joy and happiness, and to also consider the deep helplessness many feel. The urgent nature of the texts on the colorful boxes and the emptiness of the boxes themselves form a paradox that Lin Jingling hopes exposes larger ideas regarding contemporary society and identity.
Between no Longer and Not yet   @2017 Art Basel Hong Kong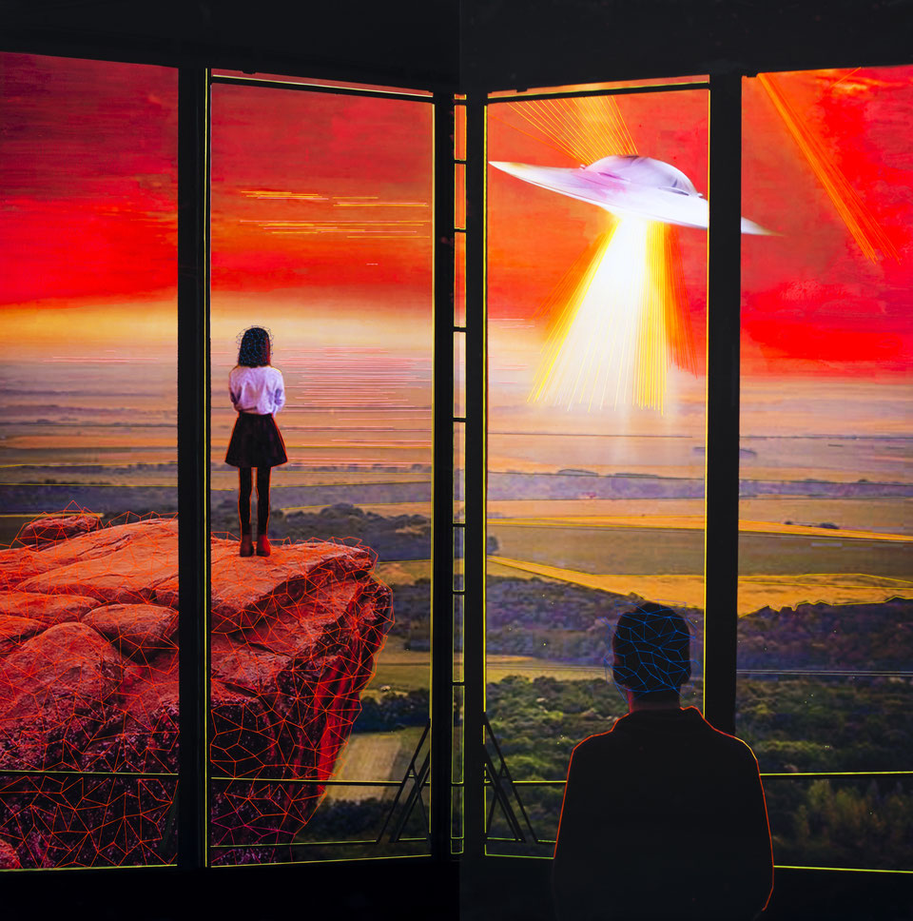 I Try to Speak to You in a Hundred Silent Ways  @"
2016 Art Beijing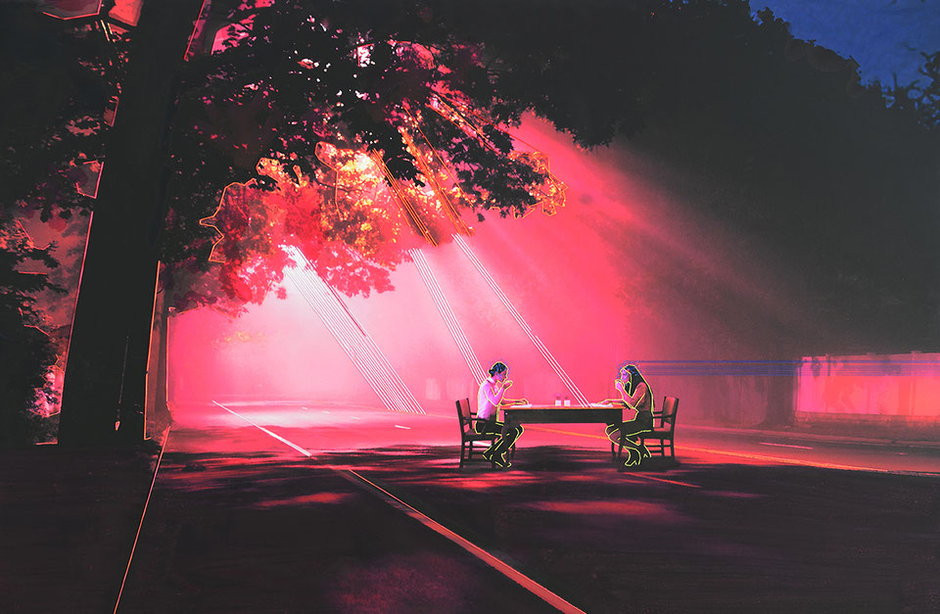 I Try to Speak to You in a Hundred Silent Ways   2016    150 x 100 cm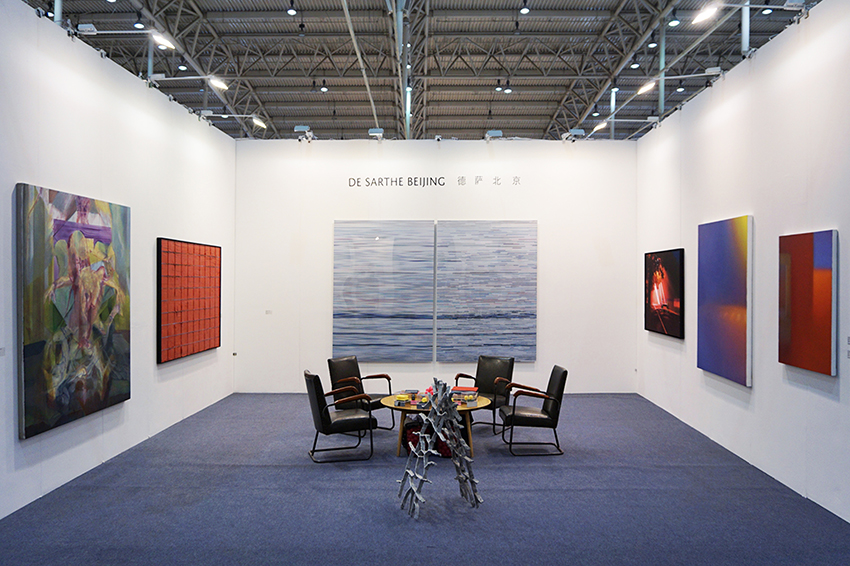 Half  the Sky  @Red Gate Gallery Beijing. 2016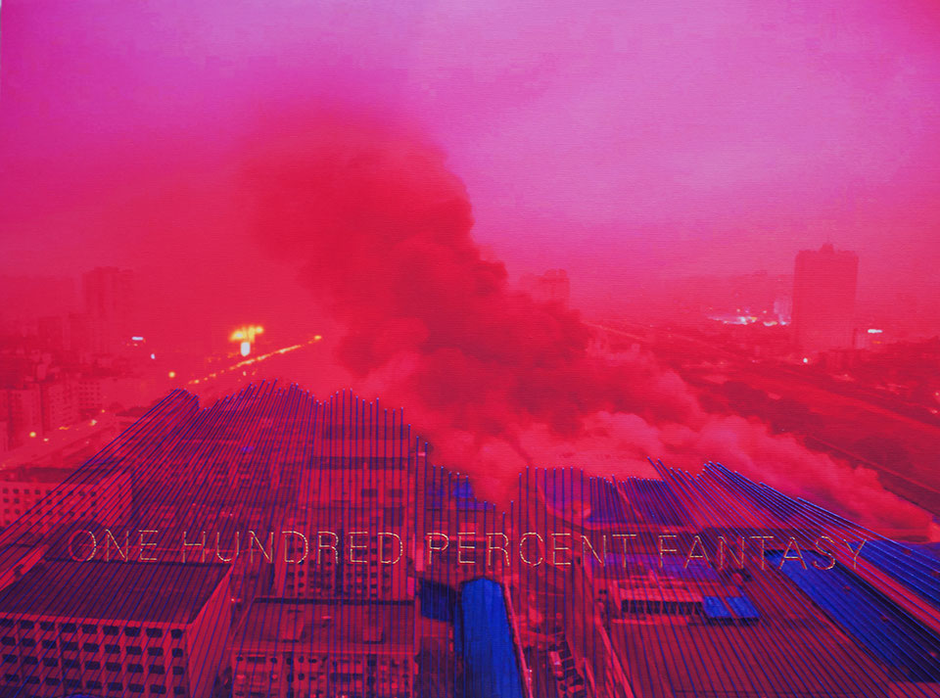 "Predictability of Unpredictable-Made in China"        mixed media on canvas    
50 x 60 cm  exhibited in group show "Half the sky":Chinese Women Artists at Red Gate Gallery  2016
Half the Sky: Chinese Women Artists
It was Mao Zedong who said, 'Women hold up half the sky'.
An exhibition of works by more than 15 artists from mainland China reveals a group of diverse women doing just that. Unusually, the exhibition emerged from the publication of a book, 'Half the Sky: Conversations with Women Artists in China'. Released in Sydney by Piper Press in February, it's based on Australian art writer Luise Guest's conversations with more than 30 artists, in Beijing, Shanghai and Hangzhou. Now, audiences in Beijing have an opportunity to discover a number of the artists featured in the book.
In travels to China over five years, Guest began to notice a surprising absence of work by women in galleries. She says, 'Despite the continued international fascination with Chinese contemporary art, manifested in so many curated exhibitions, catalogues, books and articles, there were important stories as yet insufficiently told: the stories of women artists. I wanted to make the work of these artists accessible to a wider audience, and to provide a space for them to talk about their lives and their art practice.'
From those artists, now in their 50s, who emerged in the tumultuous period of Reform and Opening, to a generation born in the 1980s, influenced by popular culture and increasing consumerism, to a rising generation of much younger artists coming to adulthood in a completely transformed China, the artists featured in the book and exhibition are all completely at home in a post-internet international art world. Yet all are conscious of how Chinese history and tradition inform their thinking.
The exhibition that accompanies the launch of the book in Beijing reveals the diversity of these artists, as well as the deep connections between them. Whether they work in painting or video, digital media or sculpture, each is engaged on a personal quest to invent and develop a visual language with which to convey the complex social realities of today's China. Now that the tropes of Pop-inspired Mao imagery seem tired, it is time for their voices to be heard, and their work to be seen more widely.
半边天:中国女性艺术家
毛泽东曾说,"妇女能顶半边天"。
这次展览将展出超过15位来自中国大陆的女性艺术家的作品,而他们的作品正好引证了这句话。这次展览的灵感来自一本刚出版的书《半边天:与中国女性艺术家的对话》。这本书今年2月在悉尼由 Piper 出版社发行,记录了澳大利亚艺术作家 Luise Guest 与30多个女艺术家,在北京、上海和杭州的对话。值此机会,北京的观众可一睹一些书中描述的艺术作品。
在过去五年的中国旅行中,Luise Guest 留意到画廊中很少展出女性艺术家的作品,她指出,"尽管国际社会对中国当代艺术相当迷恋,众多的策展、画册、书籍和文章中,女性艺术家的故事,仍还没有充分被重视。我希望能让更多人接触到这些艺术家,了解他们的生活和他们的艺术实践"。
书中所提及的艺术家们,有的是从一个动荡和改革开放时期掘起、现年50多岁的艺术家;有的是80年代出生、受着流行文化以及消费文化影响下成长的艺术家;有的是更年轻的、在一个新一代中国社会中成长的艺术家。他们既熟悉网络中的国际艺术界,同时亦常思索研究中国历史和传统,如何影响他们的想法。
这次在北京的展览以及新书的出版都揭示了这些艺术家的多样性,以及这些艺术家之间深厚的关系。不论他们以绘画、影像、多媒体或雕塑等媒介来呈示个人看法,都可看作一种相同的视觉语言,去展示现今中国社会的复杂性。是时候让这些艺术家为我们带来一些新冲击,让他们的声音被听到,让他们的工作得到更广泛的关注。
"半边天:中国女性艺术家" 展览包括以下艺术家:
卜桦,冰逸,崔岫闻,董媛,高平,高蓉,何成瑶,黄静远,韩娅娟,梁远苇,林菁菁,李婷婷,马嬿泠,陶艾民,王之博,谢其,肖鲁,周宏斌。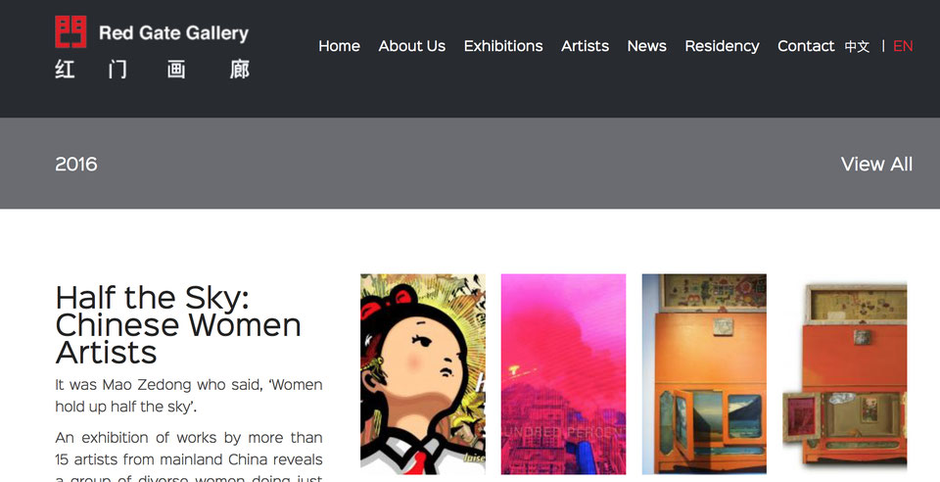 2016 The Working of Non-Figurative System  @ Right View Beijing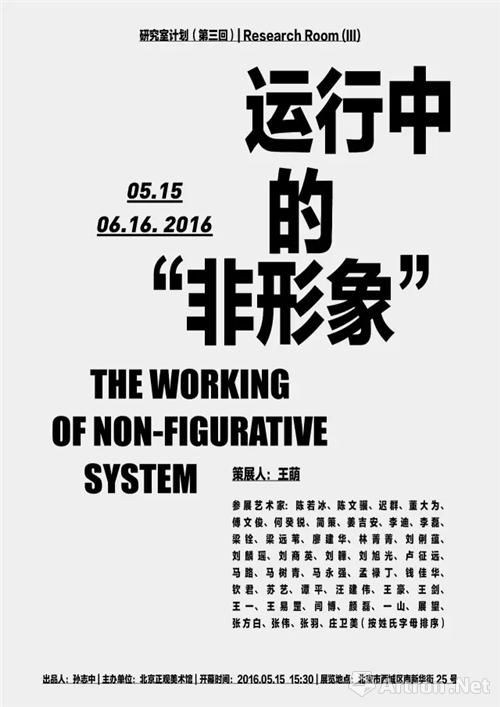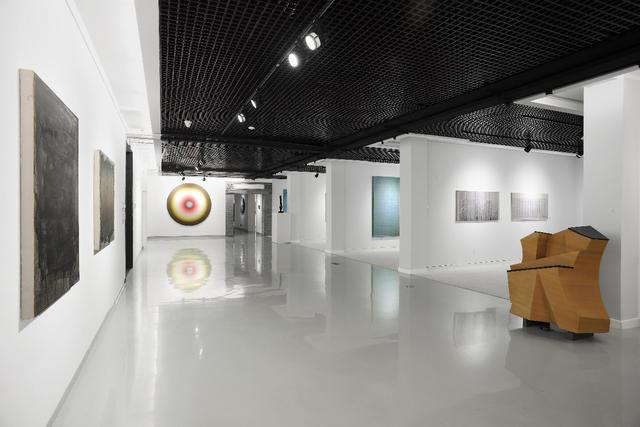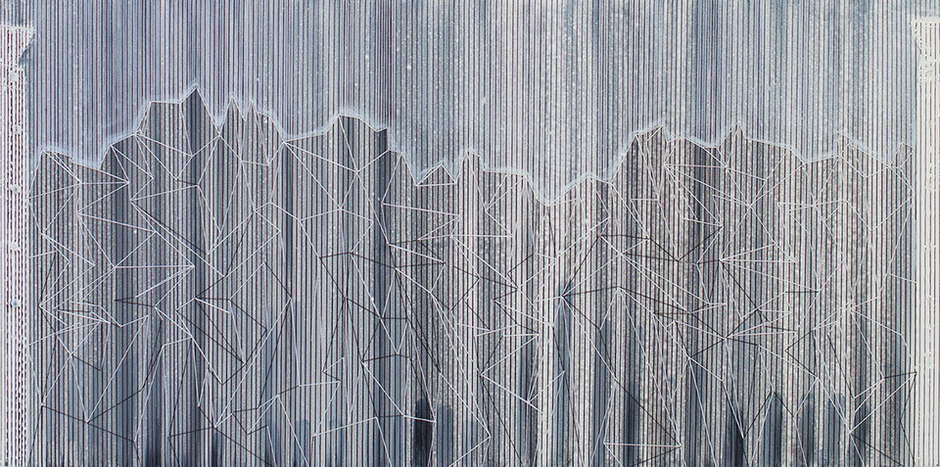 Unshakable   Mixed media on canvas            140 x 70 cm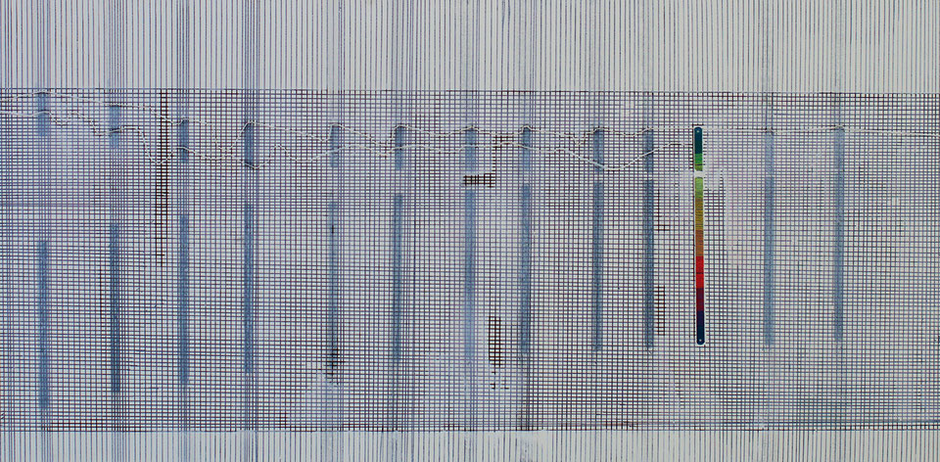 Flawless   Mixed media on canvas             140 x 70 cm
All My Possible Ways of Dreaming    @Art Basel Hong Kong  2016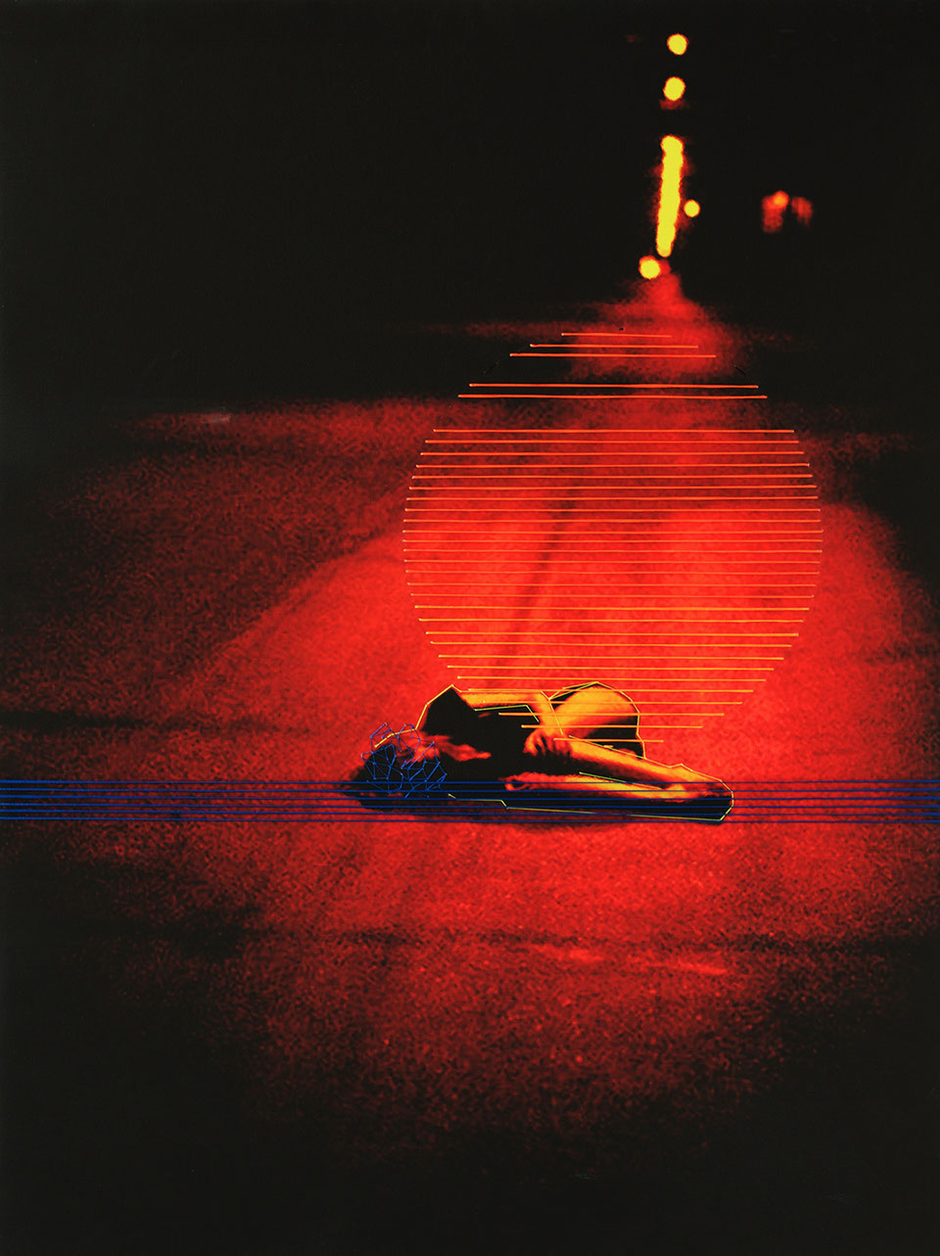 All My Possible Ways of Dreaming     2016    80 x 60 cm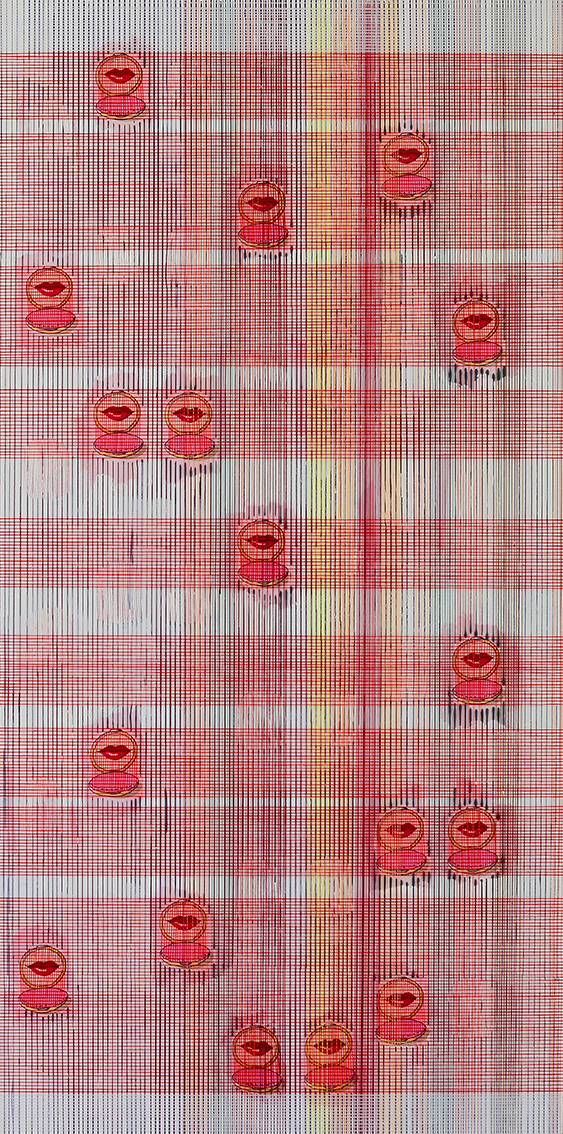 Never Gets Easier   No.1    140 x70 cm      2016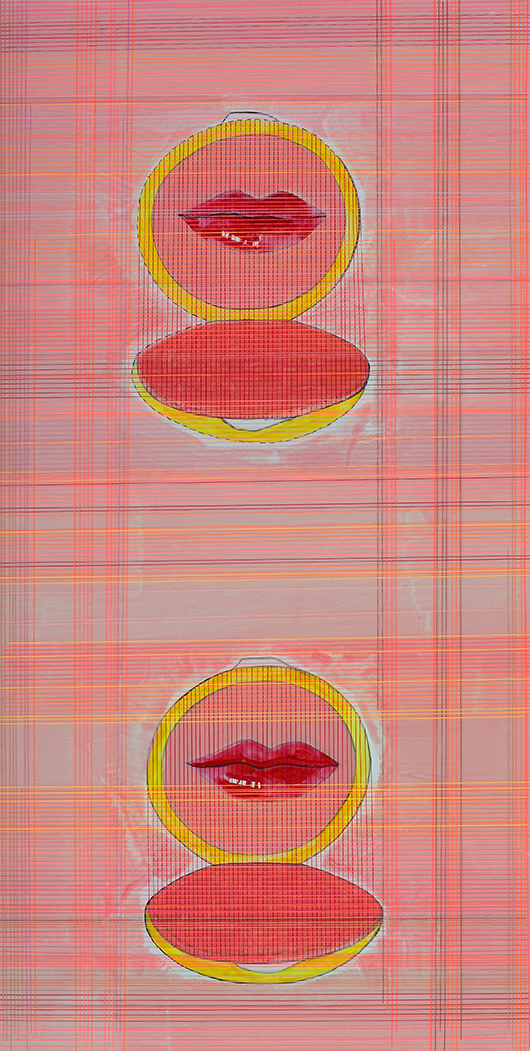 Never Gets Easier   No.2    140 x70 cm      2016